Well I think I am an official member of this forum so I thought I would put my input in....


Lucas was born at 27 weeks and 3 days after remaining in his Mom's tum for 3 and a half weeks after my waters broke. He obviously decided enough was enough and wanted to join the world before the summer and not after!!!

He weighed in at a bouncing weight of 2lbs and 13 ozs. (Fortunately he had the steroids injections given when my waters went...)

This is when the real battle started!!

Lucas started off really well in the 'honeymoon' period as the nurses call it, where he managed without to much medical intervention for a coupla days, but then he needed to use the ventilator. He was then transferred onto the C-Pap after a week and continues to use this with small breaks of breathing on his own.
He has defied us with his determination and refuses to let anything mar his jorney to freedom, despite having a couple of infections, slight bleed on his brain and some shadowing on his lungs, however the Doc's are really pleased with him and says he just needs to grow now...

He is now taking in 16 mls of feed every 2 hours through a feeding tube and his weight is being monitored.

He managed the transfer journey to a hospital closer to home which was a 45 mile journey very well and even got a certificate!!!
I was the one whose nerves were shot to pieces!!!

I have also been able to 'Kangaroo' hug him, give him some cuddles and change his nappy which is nervewrecking as he is sooooooooo tiny and fragile to me even they I am reassured by the nurses constantly that they are robust creatures!!!

This is one hell of an emotional rollercoaster journey and I struggle with the hormones of a 'postnatal' Mom, but they have to be quashed as I support my likkle one... I soooooooooo hate leaving him behind at the hosptal and life is on hold until he is home, but I am remaining positve and optimistic as he proves to be a real little fighter!!!

I just love him sooooooooooo much!!!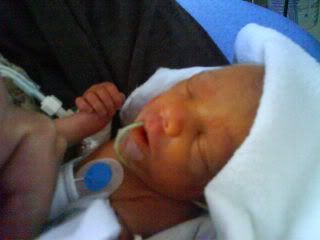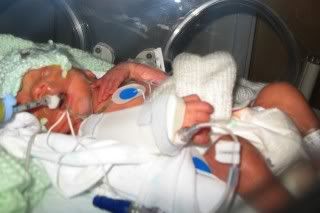 _________________

He is beautiful, he really is


I know how you feel when you say that life is on hold until he is home, people used to say to me that i was coping so well and i was like " well i have to ". You cant fall apart for the sake of your wee one, they're the important ones now, thats how i felt anyway.

My Aimee was only 2oz heavier than Lucas and now she is over 12lbs ( getting weighed tomorrow ) and lying on her playmat screaming with delight and your Lucas will be doing that soon too xx

What weight is Lucas now ? xx
_________________

Aw, thanks for replying....

Lucas lost some weight and now is still at the same weight as his birth weight, but apparently this is quite normal. Doc's may add some calorific milk to his milk so he can put some weight on now.

Been quite an eventful day today, as likkle man needs a bit more support with his C-pap, and will be needing a blood transfusion later as his oxygen levels were low and this could be causing it, but hopefully tomorrow he will be back on form. What a journey hey, as you full well know!

Aimee is sooooooooooo gawjus and you must be sooooooooooo pleased to have her with you after your own journey!!!

Also got yr message about the breastfeeding thank you and to be honest I have expressed some more today, so I will see how I go on.... He was being sick since changing to formula. Might not be that but the coincidence was enough to give me the gulit pangs so I may just perservere for a little while longer but perhaps only do a few expresses in a day rather than trying to do loads....

Thanks for your support...

xx
_________________

Suezz, Lucas will be home with you in no time at all and he will be a wee fat thing like Aimee, i promise you


Its so hard for you just now and im sure you and your oh are exhausted but things will get so much better when he gets home. I didnt think i would be able to cope when Aimee was home but compared to spending all day every day in hospital, it was a breeze.

I'm also convinced that Aimee is such a content baby because she spent 3 weeks in the sbcu so little Lucas will be an absolute angel by the time he leaves


Keep me updated on Lucas ( whenever you get a minute ) and give him a big hug from me and Aimee, we're saying a wee prayer for him xx
_________________

Hi Suezz.Hope all is going well!
I too had my little boy at 27 weeks +2, He's name is Connor and weighted 1.24 kgs. He's 4 weeks old today!
I had 2 hours notice before he arrived so couldn't have any steriods. But i was lucky to have him at my local hospital.
It's such an emotional ride isn't it! Connor was doing really well for the first day and was on cpap, but then it went down hill from then. He's blood wasn't clotting, he had a grade 3 bleed in his head, was put on the ventilator and he's lungs where bleeding too! There was one day, the friday when we didn't think he was going to come home! It was so hard! I just felt so numb!
But he pulled through slowly at first, but he is doing really well now!
He is nearly off he's cpap, only on it for a few hours a day, when he gets tired, but trys to pull it off when he has had enough.He's just starting 2 hourly feeds. But he does have a few desats and bardy's after he's dinner.
The best thing is he had he's first bath today! he was starting to smell!
It would be nice to keep in touch with each others progress.
hi hun just wanted to show you my support in the hard time your going through. I have recently been in the same situation after my little girl ws born at 31+4. The hardest thing was leaving her and i came home and cried every night for four weeks. She's home now tho and is doing so well. As much as i hated her being in scbu it was the best place for her and now she is thriving. Im sure you will have him home before you know it.

take care xx
_________________


Hello, my little princess was born at 27+2 and is now 21 weeks old and has been home nearly 6 weeks after 14 weeks in SCBU!!
She still has a few complaints and has regular hospital visits and is one vitamins and reflux meds.
She still has fluid on her brain from bleeds
2 heart complaints (PDA and PS)
CLD (chronic lung disease)
umbilical hernia
MRSA
and has now been discharged from eye clinic and her ROP is regressing.

She was born 2lb 11oz and dropped to 2lb 1oz and she is now 8lb 12oz and is near enough 13 weeks behind on development as shes trying to smile.

It is a tough journey but keep your chin up! it will be over soon and you'll feel like it was all a dream.

Hope this helps and brings you some comfort.

Vicki and Nico x