Hiya everyone,

I know its kinda weird to have a guy in here asking questions but I figured that if anyone was gonna help me out and give me some advice it'd be in here.

We're just over 14 weeks gone now and everything seems to be going to plan with the baby, but my wife is driving me crazy! I'm saying this kinda tongue in cheek coz I can't help but smile at the fact that its hopefully hormones doing this to her, and not the fact that she's just totally gone off me and can't stand me.


She's always been a bit up and down cos she has a lot to deal with, but since we've been in the family way she's gotten worse. She's moody and pretty dismissive. She doesnt want any kind of affection at all unless its on her terms. I'm not even talking about makine love, even if I go to kiss her or give her a snuggle she'll brush me away or shrug me off and sometimes she'll flinch.


It's making me back off from her, cos it hurts every time she does something like this. I just feel pretty much on my own right now. I think it's also making me feel a bit unloved and nothing more than someone who pays the bills and cooks and cleans. I dont want this to cause resentment between us, but I'm not sure what to do anymore. Can any of you folks help?

Thx

Chris
well firstly we do get men asking questions sometimes so its not that weird,
secondly, i am a bit the same, sometimes i don't want to be cuddled or kissed just be left alone, i think its natural, trust me we don't like our hormones either
thirdly, wow you do the cooking and cleaning, good for you
_________________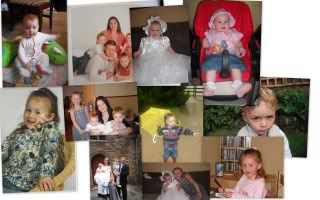 Aw bless ya - you sound like a great guy - even the fact you are on here asking for some opinions, shows how very much you care - well done you!

It will be her hormones and possibly worrying about the baby, so try not to take it personally, its more than likely in a few weeks, she`ll be wanting tons of hugs and reassurance that you still love her.

I am swinging from being all maternal and loving everyone and having extra pacience with my other kids - to hating the whole world and everyone in it
Those dratted hormones lol

Your partner and her needs will be constantly changing throughout her pregnancy - buy a good book for 'fathers to be' and this may help you understand some of what your partner is going through, or at least help you understand its normal and many women are the same and of course, we are always here and willing to help and support where we can.
Hiya,

my first reply! Cool
I guess I'm just trying to find the happy medium here between being there for her when she wants me (even if she doesnt know it) and spending some time away from her so that she can do what she wants to.

It's gotten really difficult at the moment, I'm not quite sure what to do and when to do it.

Thx

Chris
Hi Chris,

Well all I can say is that I adore my husband so much, but I know I've totally neglected him in every way. I haven't got the energy for kisses, cuddles, sex, house cleaning etc etc. Sometimes I can't even be bothered to have a conversation with him. I know I snap and come across as being miserable. Sometimes I feel miserable, but it doesn't stop me adoring my husband. I just haven't got the energy to show him at the moment.
Lots of woman find they feel a little bit more human after 12 weeks, I know you are slightly past that, but there is a chance things will start getting back to normal a bit during the middle part of pregnancy. Then at the end expect it to get worse again. When the baby arrives it'll get worse still, but the thing to remember is that she does love you, she just hasn't got the energy to show you and ultimately this experience will bring you both even closer together.
If you can, keep up all the lovely things you are already doing for her and occasionally come up with other small, but lovely things to do like running her a bath, buying flowers, taking her for a picnic, booking her a massage etc... This way she will be reminded that you love her and you will cheer her up. Little things like this remind us woman how much we love you guys and it gives us a kick up the bum to return the gestures.
Good luck. You sound like a lovely, caring husband. You're wife is very lucky.
Bec x
_________________

There isnt a right and wrong way Chris.
I wouldnt change the routine too much, spend the same amount of time as you always have together and apart doing your own things, but maybe just check every now and then that shes still ok with things this way? Afterall it worked this way before so no reason not to carry on.
Obviously, as the pregnancy progresses and baby bump gets bigger, your wife will be more restricted and i`d say, in an ideal world - an ideal man, would restrict his own lifestyle a little bit too, mainly to be there to help out more with the ordinary jobs which get difficult in later pregnancy (my ex partner used to wash and rinse my hair for me when i was huge) but also to that its not just her life the baby is going to change, but for now, carry on as before, but like i said, just check now and then she is still happy with this.
Hi Chris

it sounds like you're a pretty fab guy, and I'm sure she'll get back to remembering that soon. On a practical note - slightly personal question - have you and she had sex since she found out she was pregnant? If not, or if its been a while, it may be that she is a bit freaked out about the idea of your bits too near the baby. I know I was, and I reacted similarly to her - whether or not YOU see it that way, she may well be interpreting any attempt at closeness as foreplay
which could be freaking her out.

If you are able to talk to her about it, maybe go to the next midwife or docs appointment with her and ask for some reassurance about having pregnant sex. I honestly found it very difficult in the first 3 or 4 months as I was so tense about hurting the baby!! Its kind of a daft thing to worry about, but midwife reassurance was the only thing that helped me get over it.

Plus, pregnancy hormones do seem to turn us all into psychotic witches at some point or another - and as hard as we try its very difficult to see this objectively when you're the one crying because there's no raspberry doughnuts left on the supermarket shelf, or screaming at random people for doing something perfectly normal!

Good luck, and don't give up on her - she will appreciate it later!

Anna
xx
_________________

Hiya,
Its fab to have a dad on here, as it shows that you really do care about you mrs and baby - so big welcome from me. Her symptoms are completely normal, i was exactly the same didn't want my oh to get near, sex was a NO NO, didn't want cuddles or any contact just couldn't really stand him most of the time. It will pass as we're back to normal now, for the time being you just have to dig deep and be patient as her body is going through massive changes. It will be worth it in the end when you meet your little one for the first time.

Good luck and come back soon

_________________

I reacted the same way with my pregnancy- in fact I actually packed my bags - it was nothing, but hormones obviously thought something was wrong.

Just support her, the results will be amazing by the end.

She will know she is reacting like this coz I did, but I just couldn't stop myself, its not that we are trying to be horrible, its just thats how it is and you have to try and put up with it, rubbish i know.

Good luck Chris.
_________________