My son had his development assesment with Health Visitor on Monday and she asked if he was saying anything yet......?! He's just 8months old and the only thing that comes out of his mouth is screeches and screams like a chimpanzee.

She said within the next few weeks, I should notice that he is trying to say a word! Usually its mumumumumumumum or dadadadadadda?! But it will be a noticable word!

I thought babies didnt do that sort of thing till much later than 8 months?!

What is the woman going on about?!!!!!!




_________________


hi charlie just looked at my lil buk that i put down all my daughters firsts.

and she sed dad da at 7months then mam ma at 8 momths. nan at 12 months and that at 12 and a hlalf months and now syas quite a few thngs.

all babies are different just listen carefully as it may not sound like a word but it is.
_________________

my daughter and son both said dada at 6 months, can't remember how much they said after that, i know my son was pointing to the lights and saying 'there' whenever we asked where the lights were at 7 months (but he is the second child so his speech is really quick as my daughter never stops talking either)

every child does things at different times so no need to worry
_________________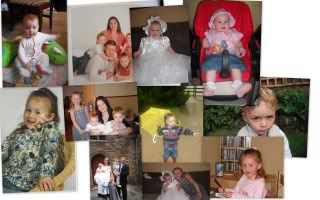 yea its right all babies are different, my son was quite forward, he was saying allsorts by the age of 12 mths, But my daughter wouldnt talk she would point n say err! then my son would translate for her...
That was yrs ago, Im hoping I get my reversal so I can go thru the whole thing again, listening to the gurgles etc